About Harbour Theatre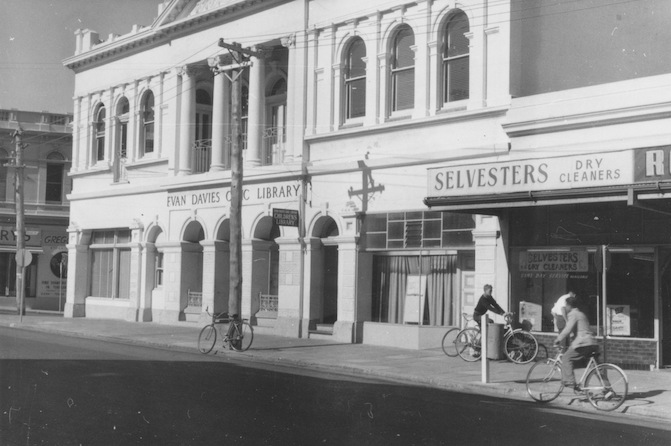 In December 1963, Harbour Theatre was formed by eight enthusiastic amateurs, led by James (Jimmy) A. Quinn, a very competent and experienced director from the former Perth Repertory Club, with Joyce Birch, Betty Houston, Dennis O'Grady, Norma Parr, Kath Rankin, Jean Ryding and Neil Smith, our first President. The theatrette on the upper floor of the Evans Davies Civic Library in South Terrace, Fremantle was made available by the Fremantle City Council and became Harbour's first home. In keeping with our nautical 'heritage', our first full-length play was SAILOR BEWARE by Philip King & Falkland L. Cary, and directed by Jimmy Quinn.

Conditions were very primitive at the beginning, but enthusiasm overcame all difficulties and the group expanded rapidly. By 1965, Harbour was able to present four full length productions a year and an Associate Membership scheme was started, and is still one of the largest memberships of community theatre in Perth. In the first few years, Harbour also introduced a Charity Night performance for each full length production. Originally this was a free performance, usually the last dress rehearsal, for selected patrons, but soon progressed to a dedicated performance that became available to local and metropolitan charitable groups. Many groups took up the opportunity to raise funds through the charity performance, as all proceeds, less the cost of performance royalties and a small theatre fee, went directly to the charitable organisation.

In 1975, the library moved out to new premises next to the Town Hall in William St and the Evan Davies Building was scheduled for demolition to make way for a car park. Due mainly to the efforts of the members of Harbour Theatre, The Fremantle Society, and a grant to the Fremantle City Council by the Heritage Commission, the building was saved and in 1977 was partially restored. At the same time, the theatre underwent a major restructuring, now occupying the entire upper floor and resulting in the stage and seating being completely rearranged, thus allowing for larger audiences and better facilities for the actors. The work to the theatre was due to the group's own physical labour, with funds raised by themselves and their supporters. The opening production in the renovated theatre was MIRANDA, by Peter Blackmore and directed by Jimmy Quinn in 1977.


Unfortunately, due to commercial circumstances beyond our control, in March 1995 we were forced to find another venue in which to perform. Thus Harbour Theatre departed from the Evans Davies Building, our home for 31 years. As a temporary measure, and under difficult circumstances, Harbour Theatre performed at the Tivoli Theatre, Applecross, while searching for a location back in Fremantle. During this time, our scenery, props and costumes were stored in a rented industrial unit in Myaree, which doubled as our club base and rehearsal rooms.

After exhausting every avenue with the Fremantle City Council for help in relocating back in Fremantle, a lease was finally arranged privately with the Fremantle Education Centre (FEC) at the Princess May Building, and Harbour Theatre was able to return to Fremantle at the end of 1996. The next few weeks were very hectic as the empty hall space in the Princess May Building had to be completely converted into a theatre, including the stage, proscenium arch, seating, lighting and associated wiring, in time for our last play of 1996, TABLE MANNERS, by Alan Ayckbourn and directed by Stan Brannick. With a great deal of effort on behalf of both Active and Associate members, TABLE MANNERS opened on time! A special mention must be made of one of our Associates, and Life Member, Frank Kane, who, without his enthusiasm, expertise in cabinet making, and sheer hard work, it would have been impossible to meet our target.

The next year, 1997, went reasonably well as Harbour Theatre settled into its new home. Unfortunately, no change is not without some consequences, with the Associate Membership dropping dramatically, and a long standing and founding member, past President and Secretary, and Life Member, Joyce Birch, retiring to Bridgetown (where she is still active in the local repertory club). This was contrasted with Harbour Theatre winning the inaugural Sheila Buchanan Memorial Adjudicators Encouragement Award at the annual Independent Theatre Association (ITA) Finley Awards in 1998. Harbour's then President, Jo Sterkenburg, said: "It was a real shot in the arm. It was nice to be recognised for overcoming adversity."

Harbour Theatre continued to perform in the Princess May Building, putting on four to five full length plays and a season of one-act plays every year. In December 2008, Harbour Theatre, in conjunction with many other community theatres in WA, were successful in receiving a grant from the Ignite Funding for WA Community Theatre by the Department of Culture and Arts. The grant was used to install an intra-theatre wireless communications system and to upgrade and replace our ageing lights (most from when the theatre started over 40 years ago) and resurface the similarly aged scenery flats.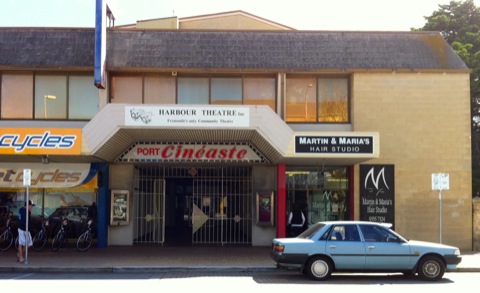 And then, yet again, due to circumstances beyond our control, in December 2009 we were forced out of the Princess May Building, our home for 13 years, when the FEC received a Federal Government Grant to re-roof the building and convert the theatre space into offices. Despite intense lobbying by the Harbour Theatre membership and the general public to the State Government and local councillors, we were forced to move. The Fremantle City Council offered Harbour a temporary venue at the disused Port Cineaste Building on Adelaide St, until a more secure home could be found. So once again, we dismantled our beautiful theatre, the only purpose built theatre in Fremantle at the time, and moved lock, stock and barrel across the Princess May Park to the Port Cineaste Building. The major task of converting a cavernous cinema into an intimate performing arts space, including building a stage and erecting lighting, was an enormous job undertaken by a small, but hardworking and dedicated group of members and involved many, many hours of volunteer labour. And yet, despite all the work involved, we never missed a season, opening on time in March 2010 with DECKCHAIRS, by Jean McConnell and directed by Peter Kirkwood.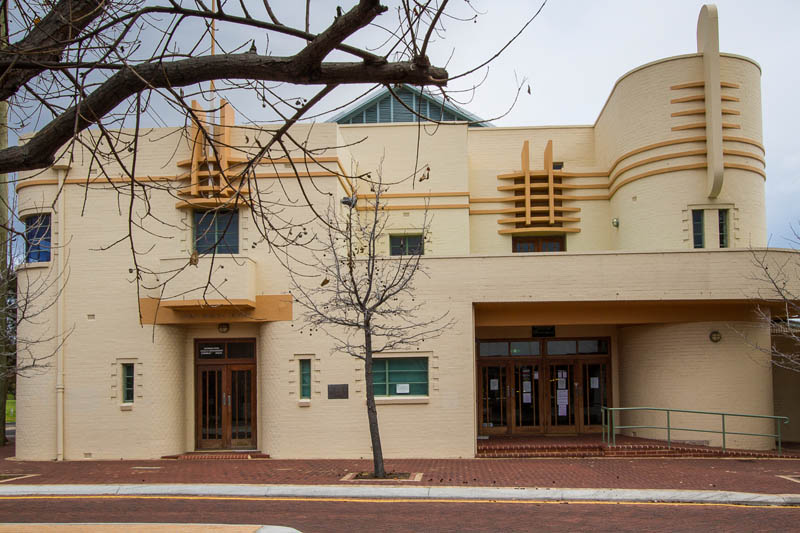 But it wasn't to last. In 2014, just after our 50th Anniversary celebrations had come to a close, the Port Cineaste Building was sold and we were told we had to move out by the end of March, right in the middle of our first season. Thanks to the efforts of our then President, Nicola Bond, we were able to extend our time in the building until mid-April to allow us sufficient time for the season, find an alternative venue and move out. After much searching, discussions & negotiations, Harbour Theatre moved just 7 minutes north of Fremantle into the lovely Art Deco Mosman Park Memorial Hall, also known as Camelot Theatre. Our dedicted team once again kicked in with the massive undertaking of moving the theatre less than 5 years after our last move - all ably coordinated by Brian Mahoney and Tina Barker.

So for more than 50 years Harbour Theatre has entertained tens of thousands of people. The variety of plays we have offered the public range from drama to comedy, whodunit to tragedy and murder to farce. Over the years Harbour has produced hundreds of full length plays, countless one-act plays and many Christmas Revues. These have earned us many awards in several of the theatre festivals held in and around Perth, and helped local charitable organisations to raise thousands of dollars for their causes. As a self-funded, not-for-profit theatre managed solely by volunteers, all proceeds raised by our productions are channeled back into the club so we can continue offering quality community theatre to the residents of Fremantle & the surrounding suburbs.
Harbour Theatre have performed in several venues since being established in 1963, with every move being a very tramatic experience for all involved. We strive to one day move just one last time - into a dedicated building we can call our own...
[ 1964 - 1995 ]Evan Davies Civic Library
[ 1995 - 1996 ]Tivoli Theatre
[ 1996 - 2009 ]Princess May Building
[ 2010 - 2014 ]Port Cineaste Building
[ 2014 - ]Mosman Park Memorial Hall
My thanks to George Iles, Brian Mahoney & Norma Parr for help with the information on Harbour Theatre for this page.